As an avid traveler myself, I have always wondered why roaming internationally is so expensive, especially data roaming. If you forget to purchase a roaming package, you may end up with a phone bill in the hundreds or thousands! But why is this the case? I decided to find out.
Why are roaming fees so expensive? Telecom providers work out bilateral agreements to allow their customers to use each other's networks. Your phone carrier pays the roaming carrier the agreed fee to enable you to use their network. There are no limits to how high these fees can be, which results in these high costs being passed onto you.
Some providers work operate in multiple regions. For example, Vodafone owns and operates networks in 25 destinations across the globe. Yet, depending on where you live, you may have to pay expensive roaming charges if you roam on a foreign Vodafone network. There are many uncovered factors that explain these high fees.
No idea how roaming works? I made this comprehensive guide about what roaming is and how it works. It is worth the read – promised!
The Real Reason International Roaming Is So Expensive
Roaming charges are so high because telecom providers can charge each other as much as they want. The lack of competition leaves no incentive for operators to charge low fees to each other. These inter-operator fees are then passed onto you in high roaming fees.
If your home provider wants to allow its customers to call, text, and use data when abroad, they have to craft agreements with foreign operators. As most destinations have monopolistic or oligopolistic networks, your home operator will basically have two options: accept the high charges or not offer any services in the destination to their customers.
As your provider does not own nor maintain the cellular antennas aboard, they have no choice than to accept these high charges from the visited provider, the foreign operator. For you, the roamer, you either have to take these inflated prices or opt-out from using your service altogether when abroad. That does not sound consumer-friendly, does it?
You can also decide to get a local SIM card or an international SIM card like OneSimCard, SimOptions, Surfroam, or SimCorner instead of roaming – those options can be cheaper than roaming with your provider in many cases.
Although most destinations have more than one telecom provider, you will often be charged the same per-minute, text, or MB/GB regardless of the visited network you use. Even though one provider may offer its service for a lower price than a local competing provider.
For example, Three (Denmark) allows its customers to access three different carriers (Digicel, BMUNI & B-Mobile) when they decide to roam in Bermuda. Digicel may charge Three 1 USD per GB while B-Mobile charges 2 USD per GB. Three would still charge you 2 USD per GB, even though you have been roaming with Digicel.
However, some providers have made deals with preferred operators, which either forces customers to roam with the preferred operator or recommends the customer to use the preferred operator so that you pay lower roaming fees.
Unfortunately for the consumer, there are no international frameworks that prevent providers from adding a premium to the charges. If B-Mobile charged Three the most per GB, nothing would stop Three from charging its customers 3 USD per GB or more.
Other Expensive Phone Services When Traveling Abroad
Nowadays, most travelers assume that they are safe when they do not use data when traveling. Unfortunately, that is not the case.
You will be charged a premium for everything you do you, this includes:
Data (internet)
Calls
SMS/text messages
Voice mails
Phone calls
A lot of plans offer unlimited local airtime to their customers. However, you often cannot use these benefits when abroad. We will be using Telus (Canada) in the following examples.
Telus offers unlimited calls and minutes within Canada regardless of the data plan you choose. But if you were to call while traveling in China, Telus would charge you 2.50 Canadian Dollars (CAD) per minute. A five-minute call would cost you 12.50 CAD – not cheap at all.
Some providers may charge you nothing or a discounted rate on incoming calls compared to an outgoing call. Make sure to be aware of these charges before picking up calls.
Text messages
Text messages are often cheaper than calling or using data when abroad. Depending on how much you usually text, this can become expensive quickly. Telus charges 0.60 CAD per text message. These charges would add up if you treat texting abroad as messaging on a social app, like Facebook Messenger or WhatsApp.
Voice mails
It may be tempting to tell your friends and family to leave you voice mails to avoid incoming call charges if you are being charged for them. However, some providers may charge you for receiving voice calls while abroad, even if you have no intention to listen to them.
Most providers would charge you for listening to voice mails while traveling. If you are unlucky, you will be changed double: for receiving voice mails and listening to them.
That is why I recommend using internet-based applications like Facebook Messenger, WhatsApp, or Skype to stay in touch with your friends instead.
How Do International Roaming Packages Work?
Roaming packages allow you to prepay for a certain amount of data, minutes, and texts for a predefined price instead of getting billed per action, which can result in high phone bills.
The Verizon TravelPass, for example, has two different roaming packages. One for Mexico & Canada
and one for 185+ other destinations
.
If you have the Play More Unlimited Plan, you get unlimited 4G data, minutes, and texts within the US. If you purchase a TravelPass and go to Mexico, you would be charged an additional $5 per day you use the TravelPass while enjoying your domestic benefits.
In case you are traveling to one of the other 185+ destinations
, you would be charged $10 per day you use the TravelPass in Australia, for example.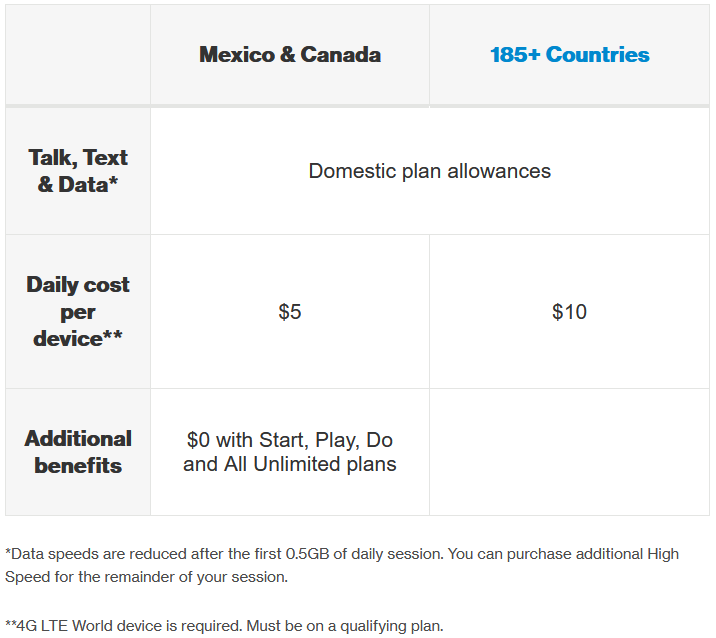 Using a roaming package can save you a lot of money compared to the Pay as You Go rates. In Verizon's case, you would be better off purchasing a TravelPass if you want to use more than 5 MB per day when traveling in Greece.
The Verizon Pay as You Go roaming rate in Greece is 2.05 USD/MB.
It is recommended to see if your provider offers roaming packages for your destination before departure.
If you are interested in learning more about roaming with Verizon, I have made a guide about EVERYTHING you need to know about roaming with Verizon. It is detailed!
Can I Roam For Free When Traveling Abroad?
Some providers allow you to roam at no additional cost in selected destinations, meaning you do not have to worry about Pay as You Go rates when visiting these destinations.
Usually, conditions apply, so you should be aware of them, as you could still get a high phone bill if you do not follow the terms.
All Three (UK) plans include Go Roam, which is their free international roaming service. Go Roam is made of Go Roam in Europe and Go Roam Around the World, which allows Three customers to roam at no additional cost in 71 destinations.
As to be expected, certain conditions apply with Go Roam. If you have an unlimited data plan or a data plan that has a data allowance greater than 12 GB, then you can only use up to 12 GB when abroad (or 19 GB if you are in a Go Roam in Europe destination). Your domestic unlimited data plan often does not transfer when roaming overseas.
Unfortunately, not all providers have such a generous policy for when roaming abroad. It is, therefore, essential to find out what roaming options are available and make sense to you. However, I have reviewed many providers so far and make my recommendations for whether you should roam or not. Check them out!
Is it worth it getting a local SIM card? Depending on the terms of your provider, it may be worth checking out local providers and see if you can get a local SIM card. In most destinations, you can get a local prepaid SIM card for a fraction of your roaming pass while getting more out of it.
Can I use 4G while roaming abroad? Roaming on 4G is possible depending on the agreement your provider has made with the foreign provider. Even if you are allowed to use 4G on the visited network, expect your internet speeds to be slower than you are used to, as the visited provider will prioritize their customers over those who are roaming.
Can I roam for free in Europe when using a European prepaid SIM card? You can roam like home with pre-paid cards. However, fair use policies apply. The home volume limit for data should be at least obtained by dividing the remaining credit on your prepaid card by €4.50 as soon as you start your roaming services.
For example, if you have €12 left on your card when you leave The Netherlands to visit Belgium to see your friends, you are legally required to get at least 2.6 GB of roaming data (€12/4.50 = 2.6).
What is next?
Looking for the best companies and gadgets to enhance your travel experience? Check out my resource page for the best companies to use when you travel! Save money on plane tickets, bus rides, cruises, and accommodation. Besides that, I also list services and items I use to make my life easier – and I believe they will help you too!
Book Your Flight
It is time to book your flight. Find cheap flights with AirWander so that you can add free or cheap stopovers in destinations you have not considered yet. If you are not ready to take off yet, set up flight alerts with Airfarewatchdog, and they will notify you once ticket prices for your preferred destination drops.
Book Your Accommodation
I am a huge fan of Airbnb because it allows me to live with a local or get a local place for myself. Staying in someone's house or apartment feels much different than being in a ho(s)tel. At least, that is how I see it. Moreover, Airbnb can often be much cheaper than staying in a hotel.
Get Your Travel Insurance
You will regret not having travel insurance once you actually need it and "forgot" to get it. Nowadays, travel insurance is cheap and comprehensive unlike back in the days. World Nomads is by far the best travel insurance for adventurous travelers like yourself. You can even get insured WHILE already traveling, which is not something many insurance companies allow you to do.
Get a Travel Debit Card
Travel Cheques are outdated. Paying with your credit card or debit card can be expensive because of all the exchange commissions banks charge you. TransferWise allows you to convert your main currency to the currency of your destination for a small fee (up to 8 times less than with your bank!) Getting a Transferwise Borderless account is FREE, so you will get an instant return on your investment.
Enjoy your trip!